How To Buy
Authorized distributors of promotional products may purchase our products directly from our site. Click the order now button on any of our product screens. You must be registered and logged in.
Standard Production Time
Our standard production time is 5 working days on catalog quantities with a one color imprint with the exception of *laser engraving*. Production time begins the first working day after receipt of your complete order. All other orders for catalog quantities will ship in 7-10 working days. IMPORTANT: An order is not considered complete until we have received both your purchase and artwork. If a paper proof is requested, production time will not begin until we receive approval. *Please contact factory for LASER ENGRAVING lead-time as it may vary based on production demands.
Rush Service
Bay State provides rush service of 2-4 working days on any catalog product ordered in catalog quantities. The first working day will be the day your order is received, if received by 10:30 am EST. Otherwise, the first working day will be counted as the following day. There is an additional charge, per piece, for this special, expedited service. The Rush Service add-on can be found below. The Rush Service add-on is in addition to the standard, piece price. Important: Rush service is dependent on inventory and production capabilities. When applying rush service to partial orders, a minimum of 500 pcs or more must be on rush; otherwise the entire order quantity is subject to rush charge. Please contact the factory, prior to sending your order, to reserve rush service.

Rush Add-On Pricing

Quantity Ordered (c)
| | | | | | | | | | |
| --- | --- | --- | --- | --- | --- | --- | --- | --- | --- |
| 50 | 100 | 144 | 250 | 288 | 350 | 500 | 1000 | 2500 | 5000 |
| $1.00 | .80 | .56 | .35 | .30 | .26 | .22 | .16 | .09 | .08 |
Acknowledgements
All orders are acknowledged via fax/email. Please read the acknowledgement carefully! Orders are processed according to the information provided. You will also receive an emailed shipping acknowledgement the day your order ships. 24 hour order status and package tracking is available on our web site, www.baystate.com.
Proofs
Emailed/Faxed Proofs: First proof is free, when requested. $10.00 (g) charge for each subsequent paper proof. This proof can be emailed, faxed or mailed, as requested. Production time does not begin until proof approval is received.
Online Proofs:
Online proofs are available 24 hours a day on our web site, http://www.baystate.com/default.asp?x=1&os=1 . Online proofs are in Adobe Acrobat Reader format. Click here to download a free version. Proofs are available within 1-2 days of receipt of order, and will remain on-line for 14 days. Online proofs are free to view. Important: We do not hold your order for approval of the online proof. Any changes to online proofs once orders enter the factory will incur a $60.00 (g) change of copy charge.
Virtual Proofs:
We can provide a digital image of your imprint on any of our products. There is a $60.00(g) charge and you may choose up to 3 different products. You have the option to create your own virtuals on our website at no charge by visiting www.baystate.com.
Preproduction Product Proofs:
An actual product proof is $60.00 (g) per imprint color, plus the product cost. Production time is increased by the time required for proof approval, usually 5-7 working days.
Repeat Orders
Please include your previous order number, our job number and date. We maintain order information for three, previous years. There is no first-color setup Charge for repeat orders using the EXACT, same copy on the EXACT, same product. For repeat orders with second-color imprint charges, there remains a $60.00 (g) 2nd color setup charge along with the second color run charge of $.20 (g). If copy changes are made or a new product is selected, please add a $60.00 (g) Setup Charge.
Combination Pricing
Save money on two or more products for the same customer, shipped to the same location. Simply include both products on one order and mark "Combination Pricing" on the order. The individual products will be produced at the total-quantity prices. Combination pricing cannot be used with other offers.
Overruns and Underruns
We reserve the right to overship or undership by no more than 5% of the quantity ordered. For exact quantity orders please add a $15.00 (g) charge.
Product Pricing
Our catalog prices, plus the setup charge, include a one-side, one-color imprint.
Change of Copy; Change of Imprint Color
Each change of copy and/or change of imprint color MUST MEET the catalog minimum quantity. The charge for each is $60.00 (g).
Less Than Minimum
Half of the catalog minimum is allowed with an additional charge of $60.00 (g)
Poly Bagging
Most products may be inserted in individual poly bags for $.25 (g) each.
Shipping Service Charges
Handling Charge: $1.50 per box. Applies to both prepaid and collect shipments.
Drop or Split Shipments $10.00 (g)
Incorrect Ship-To Address, per Box $12.00 (x)
Shipping
Customer supplied labels cannot be used. Shipment is F.O.B. Massachusetts factory. Stadium Cups F.OB. is GA; Pens starting with W84 F.O.B. is IA.Not responsible for delayed shipments when given to carrier on time. Unless carrier is specified, we will ship best way based on time, destination and weight.
Returns
Returned merchandise will not be accepted without prior approval. There is a 20% restocking charge for blank stock. All returns must be approved and made within 60 days of the original ship date.
Blank Stock
While our prices include an advertising imprint, as a courtesy to clients, all products may be purchased blank at the end-quantity price.
Canceled Orders
Prior to production, there is a $48.00 (x) charge if copy has been processed. After production, merchandise is billed.
Catalog Pictures
The artwork, designs and logos displayed in this catalog are reproduced only as examples of the type of quality of imprinted products available. They are not intended to represent that the products are endorsed by or produced for the owners of the artwork, designs or logos.
We require one of the following:
1. Camera-Ready Art: Clean, crisp, black and white, art printed at 600 dpi or greater on white paper. For multi-color artwork please provide camera-separated artwork. Non-separated artwork will incur art charges.
2. Electronic Art: We can accept artwork in all major programs including Acrobat, Freehand, Illustrator, Photoshop, Quark, Word, Power Point, and Publisher. We can also accept tif, eps and jpg files (Must be at 600 dpi or greater). Internet graphics ARE NOT acceptable. Important: Before submitting any electronic art, please EMBED ALL GRAPHICS AND OUTLINE ALL FONTS.
3. Type-Set Copy: Your price includes up to four lines of type-set copy at no charge. Please see our standard type fonts below. Additional lines are subject to art charges.
Emailed Artwork
Please reference your PO number and company name in your subject line and email artwork to artwork@baystate.com.
Standard Type Styles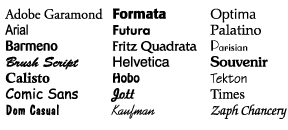 Art Charge
Any art that requires retouching will be billed at $50.00 (x) per hour with a minimum charge of $25.00 (x)
Standard Imprint Colors
Due to different materials and different background colors, the imprint colors below are shown only as a representative sample.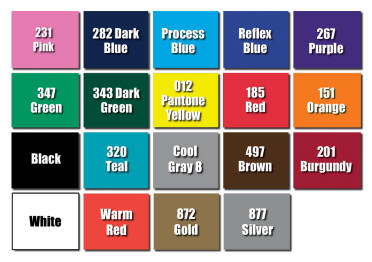 PMS Color Matching
There is a $60.00 (g) charge for each color match. We will make every effort to produce your color requirement but an exact color match cannot be guaranteed.